I want to talk a minute about banking and credit cards.
There's one important thing that needs saying and even repeating – you must always keep your personal finances and your business finances 100% separate! I cannot stress this enough.
A lot of guys and girls who start a lawn care company tend to make this mistake, especially in the beginning. They deposit checks into their personal bank because they didn't open a company account. They use a personal credit card to buy supplies, etc. This is bad news for a couple of reasons.

First, it's an example of crapping where you eat – and you know that you should never do that. Using a single bank account and / or credit card for personal stuff and business stuff can easily get confusing and get you into trouble.
Second, when you mix these two things, you leave yourself open to lawsuits. God forbid somebody gets hurt on the job or a customer injures themselves and wants to sue you.

If you're using personal accounts for business, a good lawyer can get past the protection of your LLC. It's called "piercing the corporate veil." Basically, they make a case that you aren't running your LLC as a separate entity. Therefore, your personal assets are up for grabs.
So, as I mentioned back in chapter 1 – get a company bank account and do all transactions through that. If you get a credit card for Mean Green Landscaping, LLC, then it should be under the business.
Now, some would recommend that you open up a company credit card to help with supplies and emergencies. That's really up to you and will depend on how much cash you start with. To be honest, though, while you may be in debt in the beginning to get started, the less debt you can incur the better.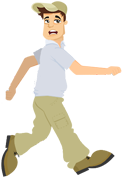 It's one thing to borrow $25,000 from the bank at 8% for 5 years. It's another to run up $5,000 on a Visa card at 22.5%. That interest piles up fast and you'll find that a good chunk of your earnings goes to paying it off.
The best thing to do is if you do borrow money to get going, borrow a little bit extra, say $1,000 and leave that in the bank for supplies and emergencies. You can borrow that from yourself interest free. And once you start getting your first few dozen customers, you really won't need a credit card anyway because your debit card can do anything it does. Part of your earnings will be put away for a rainy day.
Okay, so the point of this section is to keep careful track of everything you buy. From gas to parts to lunches and so on. A lot of what you do is a write-off, so keeping track will not only make your daily life easier, it'll make tax time a breeze. In the next chapter, I'm going to go into this in a bit more detail.
The cool thing is …
Keeping track of expenses is easier than ever… how?
Just link your bank account to your Xero or QB account.
Then... your transactions will be AUTOMATICALLY entered into your bookkeeping software... Magic Then every night or at least once a week go through and reconcile what the expenses where for and you're all set. Check out how here… https://www.youtube.com/watch?v=Oi9nNCSuqNA
Later… We'll talk about how much money you'll need to hit that $5K mark and where you can get the funds to get started. For now, though, just keep track of everything, because you'll never get there with sloppy bookkeeping. I know because poor bookkeeping almost sunk my business when I was getting started.
Link your bank account... And (if you decide to use a separate one for your business) your credit card account and keep up with the reconciliations. The good news is that this can be done on the go with the Xero mobile app. It'll make your life a hundred times easier and keep you out of a financial nightmare...
We've already touched on banking, so instead of devoting another section to that, let's move on to taxes.
Taxation without aggravation
Now I want to be clear that this blueprint isn't going to teach you how to do your taxes from A to Z.
Honestly, that's what an accountant is for. A few hundred dollars a year and you save yourself huge amounts of cash as well as letting the experts handle this important aspect of your business. After all, your CPA knows the tax laws inside and out and will help you maximize your deductions and your income.
What I want to do here is to kind of introduce you to taxes and how they work for a small business owner. To prepare you to understand what's going on so that you and your accountant can work together effectively.
The first thing to note is that your company doesn't pay taxes. Only you do. That's the nice thing about an LLC. Basically, all of your expenses are paid for before you write yourself a paycheck. The only taxes you pay are on the size of that paycheck.