After you upload a photo of the work you completed for your customer, that picture is then emailed to your client for approval and the pic is also put on your profile's work history, so make sure you take the best looking picture to showcase your yard work that you can.
After that... take a look at the Completed tab on your appointments list to make sure its there. That will give you confirmation that you successfully completed your customers appointment.
The appointment will stay in the Completed section until your customer's card is billed 48 hours later and then after they pay you it moves out of the completed section and will appear on your customer's details page in the Paid section.
Take a look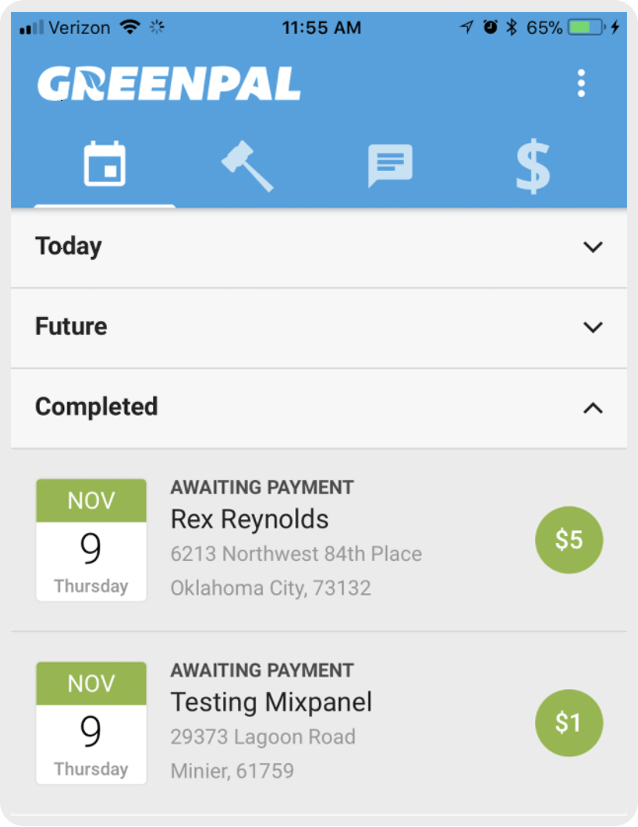 Meanwhile… Your customer will get an email letting them know they have 48 hours to check over your work and best of all if they like they can login and pay you right then, or if they do nothing (most GreenPal users), the system will charge your client's card on file automatically 48 hours later for you.. What's more you'll also get an email each time one of your customer's pays you.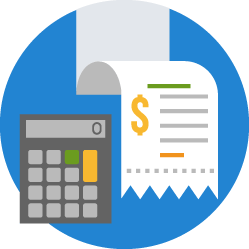 As you can see this is powerful because gone are the days of managing accounts receivable for your customers and waiting weeks or months to get paid.
So long as your client is happy with your work, and their credit card on file is not declining, your clients will be billed and pay you like clockwork.
This means you spend less time on nightly booking keeping mailing out invoices, and even worse waiting of checks in the mail for your lawn care business.
It gets better... your customer's card is charged you can then check on the ACH transfer into your bank via your Stripe account.
If you have not yet logged into your Stripe account, go ahead and do that now using a desktop or laptop computer to familiarize yourself with how it works.
Check out this GreenPal users Stripe dashboard and you can see how powerful the GreenPal platform is.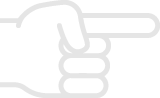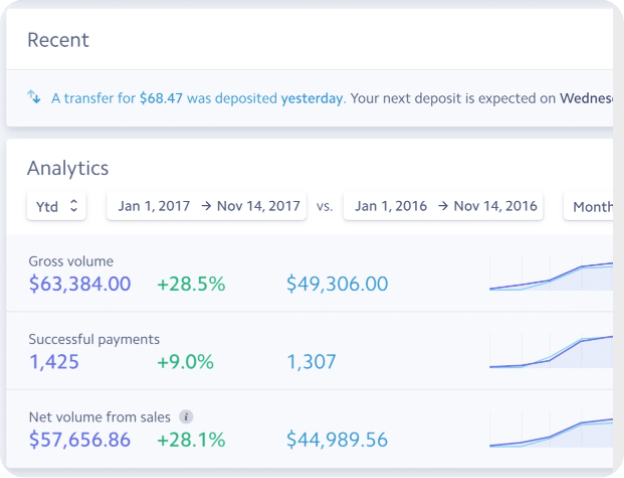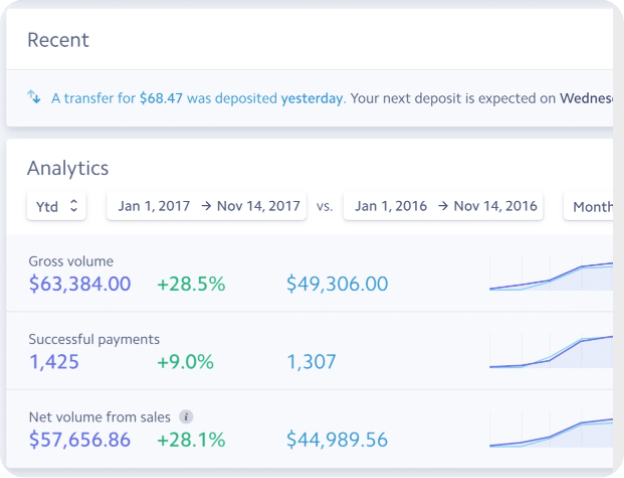 This is where you will check on your funds in route from billing your customer being sent to your bank account, and also where you will also issue refunds to your customers if needed for whatever reason.
As it turns out... We recommend using a laptop or desktop computer to manage your Stripe account, however there is also a mobile app (with limited features) you can downlaod
Check it out: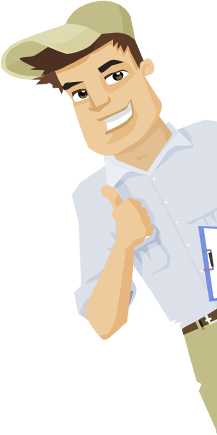 Here's the deal
When you're new to Stripe and GreenPal... Stripe requires 5 businesses days after your customer's card is billed for Stripe to deposit funds into your bank.
Want to know the best part? As you complete more transactions through the payment system, you will build up trust as a merchant and the payments will flow quicker down to 2 business days.
So to make a point
Let's say you complete a job on Monday for you customer and upload the photo.
Here is when you'll see funds in your account when you're new and when you've established trust with the system: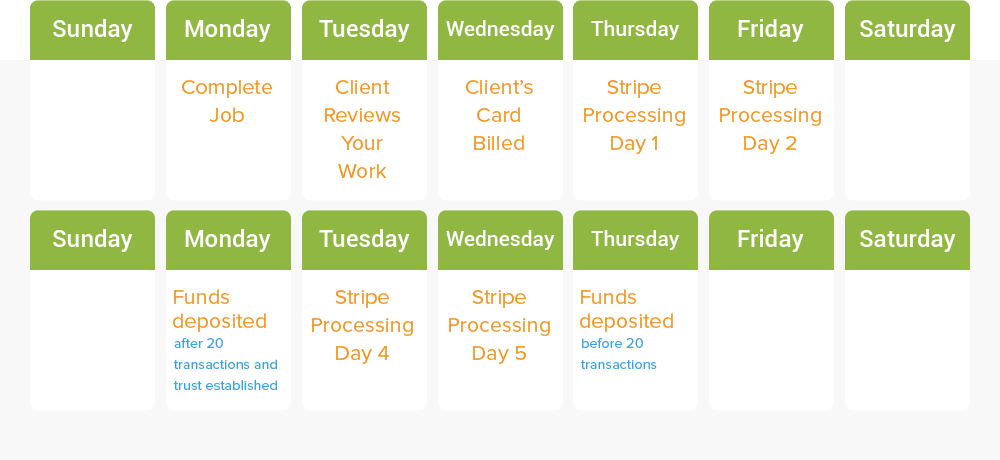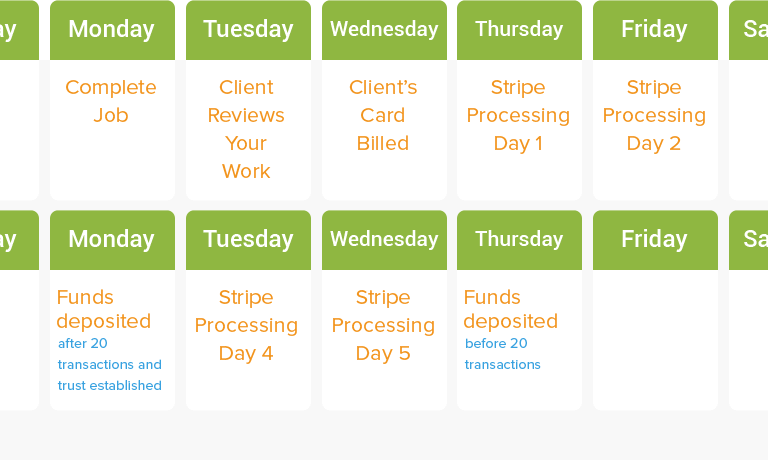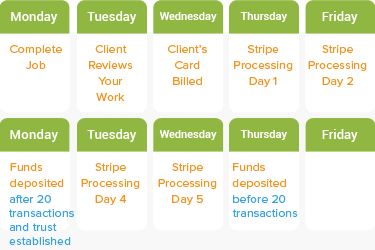 So the good news is...
As you can see when you build up trust with Stripe and GreenPal your cash flow moves much quicker, and the best part, you can speed it up even faster.
In the example above, simply reach out to your client after you complete the work and ask them if they are pleased with your lawn work and if they would log in and approve payment for your work, and leave you a nice review.
Here's the kicker... If you do not personally follow up after you complete the service for your client most likely you'll have to wait until their card is billed automatically 48 hours later.
This little bit of follow up can shave 2 days off your payment processing time and even better is a great opportunity to ask them if they want ongoing service which you can set them up for from the customer details page.
Simply stated.. Following up is the one thing that the most successful lawn care services that use GreenPal all do.
Why… because they get more reviews, and more ongoing clients be following up to make sure their clients are happy with their grass cutting service.
But that's just part of the story…
Should you ever need to to check over one of your customer's paid appointment history or even see their upcoming appointments history that easy to do.
Just click on their name and then scroll down to see Upcoming and Paid appointments. After your client's card is successfully billed it will appear in this list.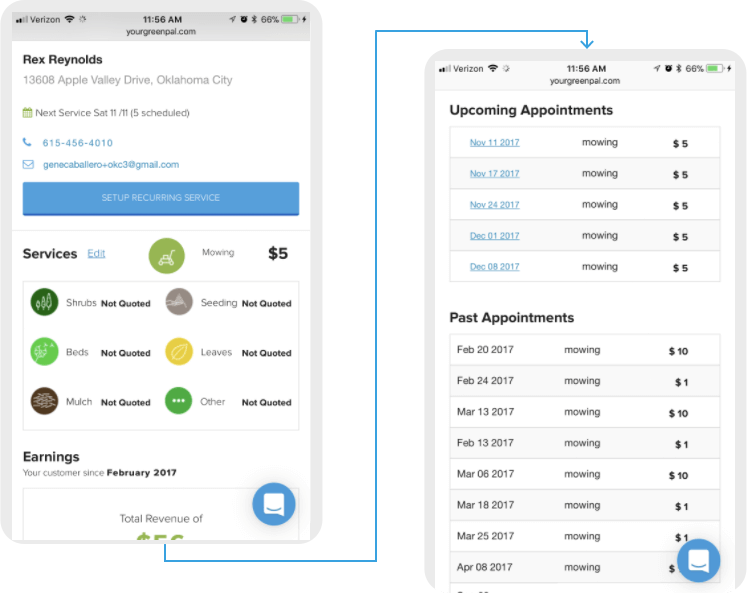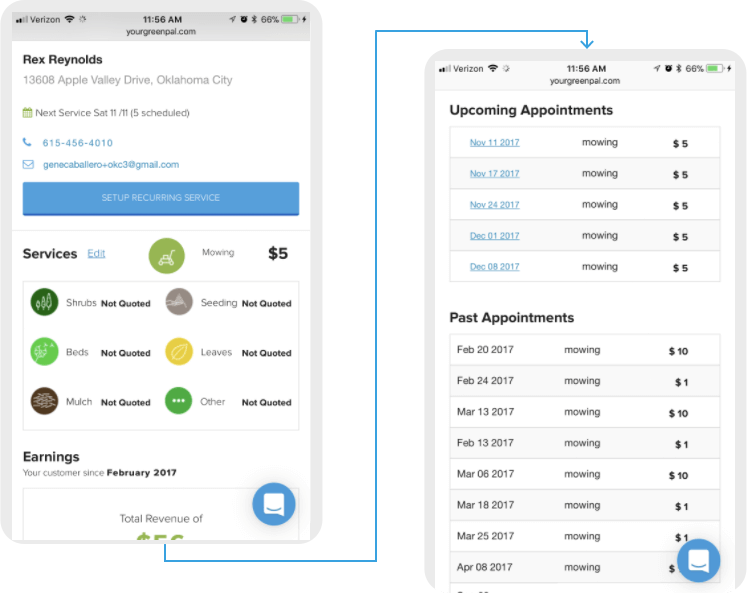 So if you're ever confused or wondering if you successfully completed an appointment for your client or even if you got paid…
1

Check the Complete tab on your main apportionments list

2

If your clients appointment is not there, then it will be in the paid list indicating your client has paid you

3

One more thing... You'll also need reconcile this list with your Stripe ACH bank deposits
But wait there's more... After you complete a transaction, send an nice email to your customer and ASK THEM FOR A REVIEW. This is very important because the more reviews you get on your GreenPal profile the easier it will be for you to win more lawns in the future.
Check it out...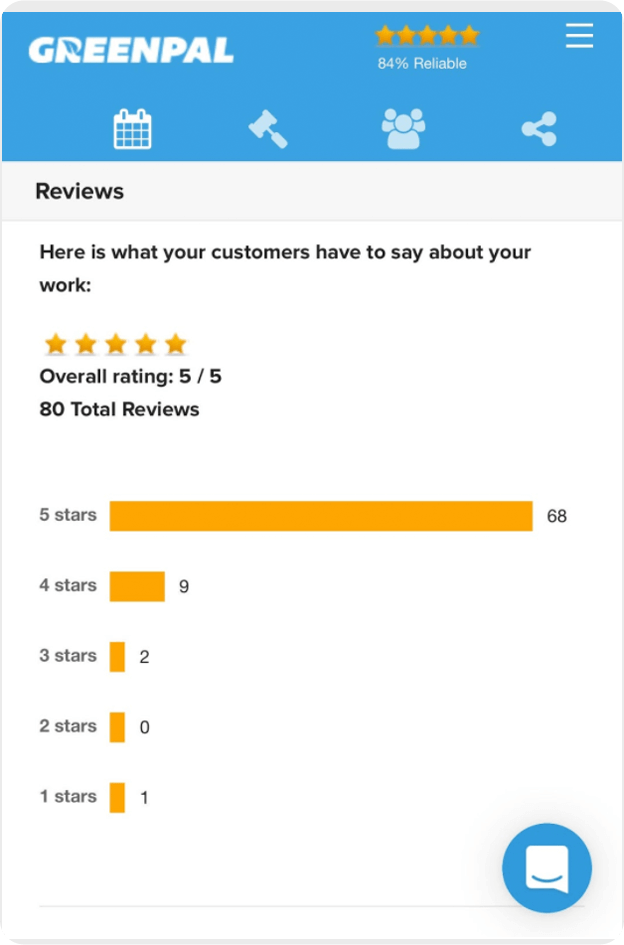 My experience is that building your landscape maintenance company on GreenPal works like a snow ball...
1

Hitting your customer's dates

2

Uploading a good looking photo

3

Gets you a higher reliability rating

4

The better your rating makes it easier to win new customers

5

Then new customers get you more reviews

6

Which get you more customers and so on
That's all there is to it. If you made it this far give yourself a pat on the back. You're one step closer to growing your landscape maintenance business with less headache on the GreenPal platform.