Why does this matter?

As it turns out, your potential customer's primary concern for who they pick to mow their lawn is if their lawn service is going to show up on the day they want.
So your reliability rating is displayed alongside your bids…
Check it out... this is what your potential customers see when you submit your bid: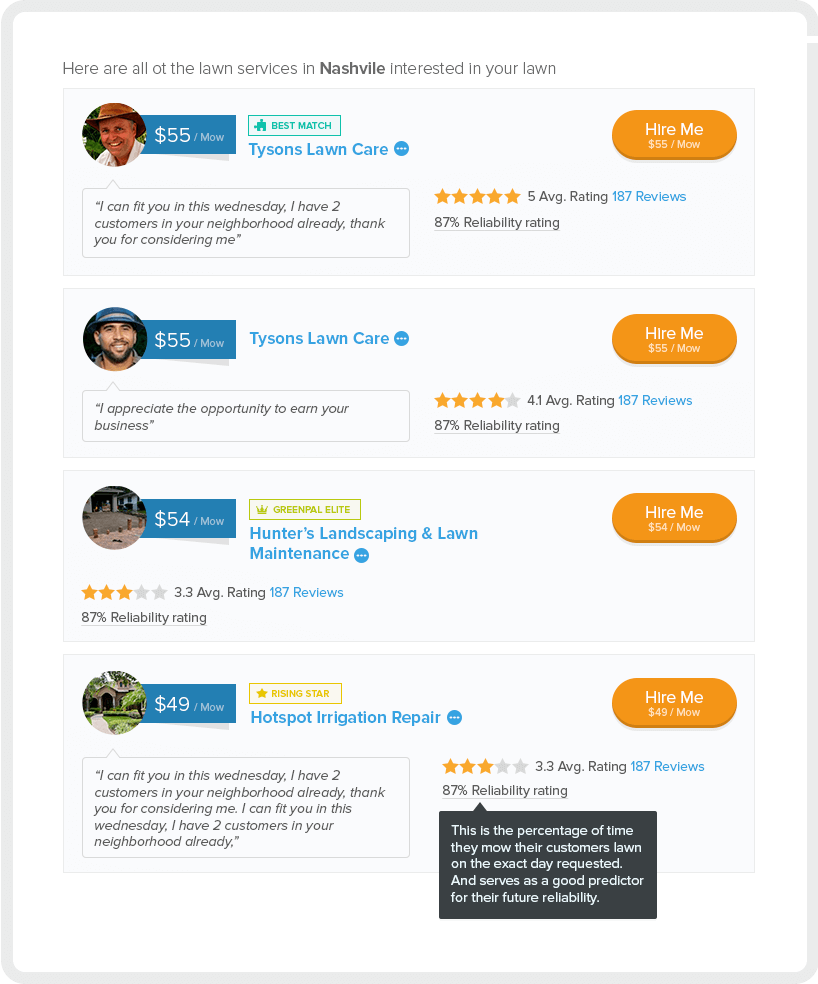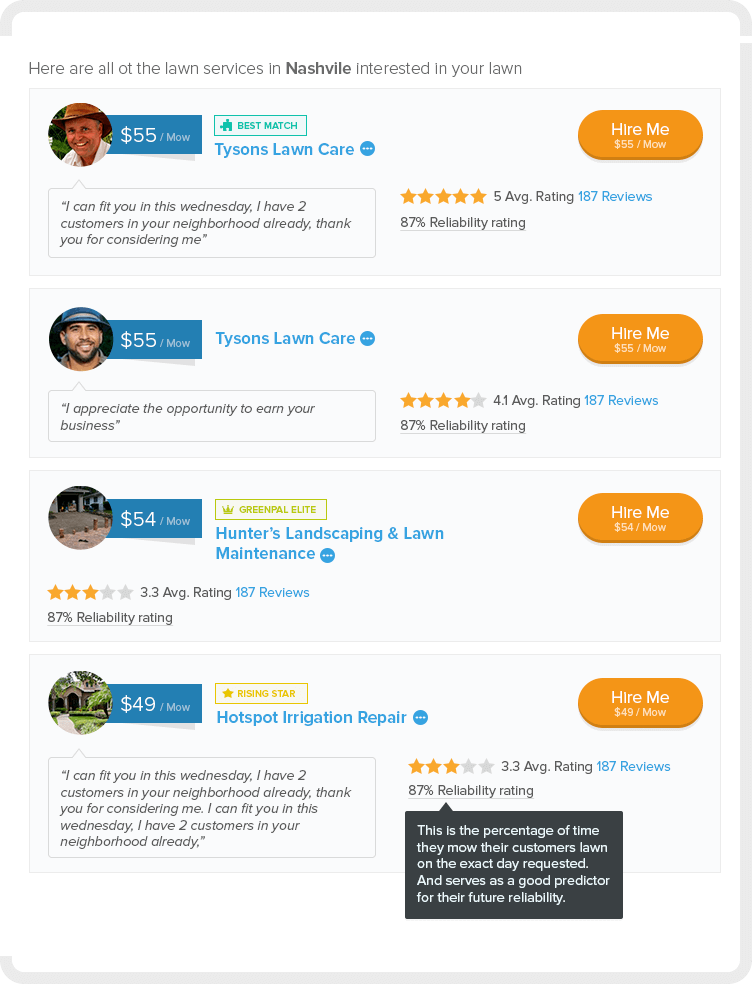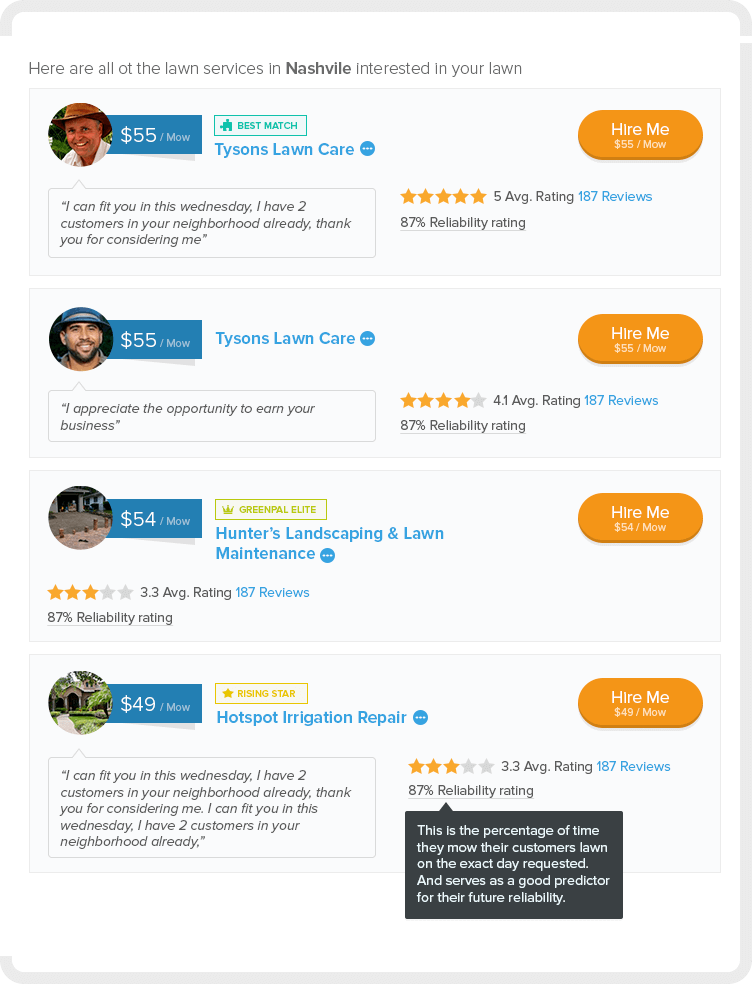 No doubt about it... this communicates to your potential clients what the probability is that you'll actually show up on the day they want to have their yard serviced. And simply stated is the easiest way to beat your competition.
So for example…
Let's say you have 10 customers to mow in a given week.
You mow 1 of them a day late.
Then your reliability rating is 90% for that week.
So simply put… 90% of the time you show up on the day your customer schedules. Pretty simple.

Just make sure you get the appointment completed in the system before MIDNIGHT of the day of your clients appointment and you're scored positively by the GreenPal robot.
Now... your reliability rating is calculated every Tuesday night and updated to your performance scores. These are emailed to you every Tuesday.
Put another way your reliability rating updates once a week on Tuesday, so you won't see changes in it from day to day operations.
But here's the kicker… From time to time there may by a rain related delay in your customer's service. So what do you do?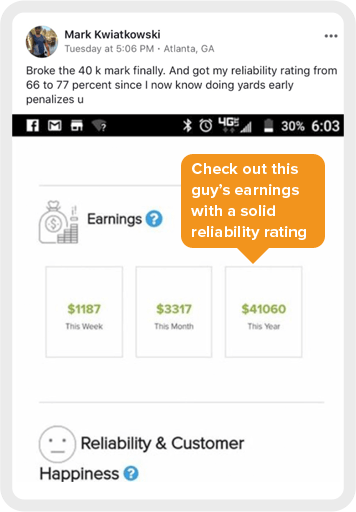 From my experience, the most successful lawn pros on GreenPal will service their customers a day early if rain is in the forecast, however, if you can't service your customer for any reason on their day, you'll need to push the blue reschedule button on their appointment and move your customer's date 1 day sooner or later.
So with that being said… there is a 3 day window to fit any of your customer's appointments into your route. You see... the system will let you mow your customers lawn the day before / the day of / and the day after.
Put another way… that's half the week to get them completed and worked into your route.
Now…
Keep in mind you're only scored positively for your rating when you service them on the actual day of their appointment, however the system will let you mow them a day early, and also delay your customer a day later ONLY 1 time.
So what if your customer has booked ongoing service on a day that you are not in their neighborhood… is that's going to hurt you rating?
Not if you're proactive about it... Let me explain.
Here's the deal… on the first mowing my recommendation is to be on time on the day they want as first impressions are important when earning a client's ongoing business... Fair enough.

However on the ongoing mowings, you can set up your client to recur on the day it fits in your route.
Heres how you do that:
1

Constantly monitor your upcoming appointments and if you're not going to be able to make one of your clients booked dates...

2

Reach out to your client and get their approval for another day that is good for them. For example...

Hello Mrs Smith I noticed you're set up with me for this wednesday, I am not in your area on Wednesdays however I can accommodate you on Saturday, is this ok with you?

3

After you get their approval cancel their next upcoming appointment and then go to the customer's details page and set them up for a fresh schedule for the day you can get to them and that will OVERRIDE any previously booked appointments.

4

Then you have them setup on a day you can fit into your route and you'll be scored positively each time you service your client on the scheduled day.
Bottom line… when it comes to your ratings a little proactive scheduling and communication goes a long way.
By the way... If any of your customers' mowings are delayed longer than 48 hours not only does your reliability rating suffer what's more, your account access is restricted and all payments to you are held until you get your late appointments serviced first and your GreenPal account caught up and brought current.
Here's why…
GreenPal is the most reliable way for a homeowner to find the best fit lawn care service in their neighborhood for consistent, quality, and on-time service.
That's why homeowners use it, and that's why you have the opportunity to earn their business.
So with that being said, any vendors that routinely delay their customer's service simply will not be a good fit for the GreenPal platform.
Bottom line… The best lawn care services that make the most money with GreenPal are consistently on time for their customers, and maintain a reliability rating over 80%.
As it turns out homeowners want to hire the most reliable lawn care service they can and surprisingly it's crazy but they care more about than price.
As it runs out… Being on time is TOUGH

It's been my experience... The highest earning lawn care services use their strong reliability rating to be able to charge more for their services so they don't have to compete so hard on price.
Put another way. Homeowners will pay a little more for timely service.
So to make a point, here's what you need to know about your reliability rating:
1

Simply put... Your rating is the percentage of how often you service your clients on the day they scheduled and what's more communicates to your potential clients the likelihood of you showing up on the day they want.

2

Your ratings are updated every Tuesday night when the GreenPal weekly stats report is published.

3

You have a 3 day window to accommodate your clients however you are only scored positively when you complete them on the actual day they wanted in the GreenPal system by midnight.

4

Your ratings are displayed alongside your bids and all vendors on the GreenPal platform are scored against the same standards. Put another way everyone is scored on the same rules so homeowners can gauge who they want to hire.

5

You're in total control of keeping a high rating, by proactively managing your clients booked schedules and mowing a day early if bad weather is on the way. Just make sure you upload their photo on the day of the booked appointment to be scored positively.

6

Keeping a high rating is the best way to win more clients at higher prices.