So you are looking for affordable lawn care?
These days, who isn't?
Here's the deal, you are in the right place. We know all about affordable lawn care.
You spend enough on your home as it is. It's only natural that you want to find an affordable solution for your lawn.
So we have worked hard to bring you some of the best tips for finding affordable lawn care!
Are you ready to start saving?
Then let's dive in!
Tip One- Grow the Right Grass Type
Look, many folks overlook the type of grass in their lawn. It's just not something that often comes to mind.
Most homeowners thinking is "It looks good enough. I'll just leave what's there."
Here's the deal, the type of grass in your lawn doesn't just improve your lawns appearance. It REALLY makes a difference on how easy your lawn is to maintain.
As a result, the type of grass in your lawn will affect how much it costs to maintain!
Whether you plan to hire a landscaper, or will mow the lawn yourself. The type of grass you have in your lawn is a huge part of affordable lawn care.
So what's the big deal anyways?
Well, if you are trying to get affordable lawn care, and you have a lawn full of crabgrass or any other hard to cut grass.Affordably priced lawn care is just not going to happen.
In fact, many grasses grow too quickly to cut on a two week rotation.
Of course you could just mow the lawn every week. On the other hand we are looking for affordable lawn care tips here! Though not ideal,a good grass can typically wait two weeks between cuts, and still be easy to maintain.
It may mean spending more money up front, but once a good turf grass is established it will be easier to cut. Resulting in a quicker mowing of the lawn, and more affordably priced lawn care.
Affordable Lawn Care Pro Tip- Use No-mow Grass Seed:
Want to go all the way with the best grass seed for affordable lawn care? One great tip for receiving affordable lawn care is to use a no-mow lawn mix. Once established the no-mow lawn only needs to be cut 2-3 times a year. As you can imagine, this type of grass can really help save you some hard earned cash!
Tip Two- Compost your Mulch or Clippings
We often drill the importance of keeping the clippings on the lawn by mulching the clippings, or collecting the clippings for compost.
It's true, mulching is a method of cutting the grass clippings so small that they will break down quickly. This practice not only eliminates a majority of clippings on the lawn.
More importantly, mulching also keeps all of the nutrients held within those clippings in the lawn.
Alternatively, you could bag the clippings and compost them. Though it is a bit more work, composting your clippings and using them as a top dressing can be an affordable lawn care practice that helps keep more nutrients in the lawn.
Either mulching or composting clippings is a great practice for affordable lawn care. It helps you recycle the nutrients already in the lawn. This means you get greener, fuller grass, with less money spent on fertilizer!
While you are at it,
mulch your leaves too
.
Tip Three- Make Your Own Fertilizer and Herbicide
Get this, one huge cost of lawn care is the fertilizer and herbicides involved.
Best of all, you can save hundreds of dollars a year by making your own herbicides and fertilizers.
Here is a great recipe for an herbicide that will help you on your quest for affordable lawn care:
1 Gallon distilled white vinegar (5%)
1 cup Epsom salt
1/2 cup Dish soap
It's as simple as mixing all the ingredients together in a sprayer, and spraying the weeds.
Spray this mixture once every few weeks along stone walkways, driveways, and anywhere it is needed.
Affordable Lawn Care Pro tip- Use Herbicide Along Lawn Boundaries:
When it comes to affordable lawn care, you can save a lot of time on weed eating by spraying your homemade herbicide along any edge you can hit with a mower. This will save you or your lawn guy a lot of time when it comes to lawn care, leading to lower lawn care costs.
Tip Four- Consider Xeriscaping
Most people don't know about this one, but xeriscaping is one of the best ways to go if affordable lawn care is your aim.
What is Xeriscaping?
Xeriscaping is a form of landscaping that requires little or no irrigation. Xeriscapes feature a lot of stone work, as well as plants like succulents and cacti that thrive on little to no-maintenance. The upfront cost of xeriscaping can be quite high, but the long-term maintenance of a xeriscape lawn is very, very low.
Xeriscapes are Great for Affordable Lawn Care Because:
There is little to no grass to maintain.
Xeriscapes have low water requirements.
Low-maintenance plants thrive in a xeriscape setting.
It's true, xeriscaping is an excellent alternative for anyone looking for affordable lawn care. Seriously, xeriscapes are not only incredible and unique, they are easy to maintain.

Tip Five- Cut the Grass On a Two Week Rotation
Now, this one is a huge misconception. Of course, on its face it appears to be a great step for affordable lawn care.
It's true that two cuts a month at $50 is much less than 4 cuts at $50. But, here's the deal,unless you also follow tip #1 and select a good grass seed cutting every two weeks may be more trouble than it is worth.
Also, you would be hard pressed to find a reliable lawn care provider to cut the lawn every two weeks for the same price as a one week cut. If they do offer bi-weekly cuts, most lawn care professionals will charge one and a half to two times as much for bi-weekly cuts, as they do for weekly cuttings of the lawn.
That may mean you are paying the same amount for bi-weekly cutting as you do for weekly cutting. If you truly want to utilize this affordable lawn care tip, you must also follow Tip #1 as well.
Tip Six- Plant Low-Maintenance Perennials
One of the most difficult pairs of words to distinguish besides left and right, is the difference between perennials and annuals.
I for one was no exception to this learning curve. But an easy way to remember the difference is that annuals need to be reseeded or planted every year, where as perennials come back year after year.
If you are concerned about affordable lawn care, be sure to use a perennial grass seed in your lawn. Cheap mixes of grass seed are often annual grass seeds, lasting only one season.
However, this doesn't just apply to the type of grass seed you use in the lawn. You also want to select perennial plants for the landscape and garden beds too. Choosing perennials instead of annuals is an essential part of affordable lawn care and affordable landscaping.
Using perennials in your lawn and landscape is a fast and easy solution to help you in your quest for affordable lawn care.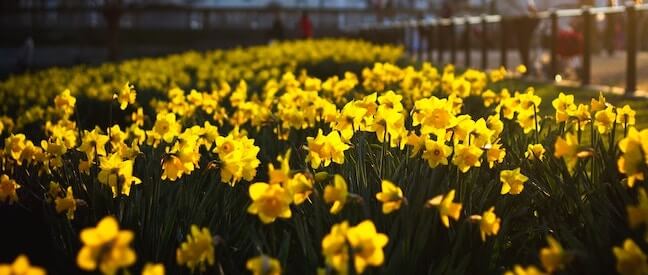 Tip Seven- Use Bulbs in your Landscape
Even better, along with using perennials. One of the most affordable ways to get perennials into your landscape is by using bulbs. Flower bulbs like daffodils, lilies, tulips and alliums can be purchased very cheaply. Best of all they are easy to install.
Bulbs can also be a great way to plant something rewarding in those unused, difficult to mow spaces. Grass along slopes, ditches and unused lawn can quickly be replaced with a combination of bulbs. When used properly bulbs will create a low-maintenance and colorful space throughout the year.
Truly using bulbs are one great technique that can help you on your adventure for affordable lawn care. They can eliminate those hard to maintain spaces, and they even have the added benefit of being a space which is beneficial to wildlife.
Affordable Lawn Care Pro Tip- Use Flowering Bulbs In Difficult to Cut Places:
Water-loving bulbs like lilies can replace grass in hard to cut spaces like deep ditches along roadways. You can also use bulb and wildflower mixes in parts of the lawn that you don't use. Making your lawn smaller, easier to maintain, and creating a pollinator-friendly space too!
Tip Eight- Aerate in Spring and Fall
One great and affordable way to make the most of the nutrients and water already in your lawn, is to aerate. Using a core aerator loosens up the soil, and allows plant roots to grow deeper. Aeration also allows any nutrients applied to the lawn to reach deeper, and prevents them from washing out with the next rain.
Get this, you can split the cost of renting an aerator with your neighbors.
Think about it, if 3-4 of your neighbors can chip in to rent the aerator. It will hardly cost anything, and you are saving even more money.
Now that is affordable lawn care!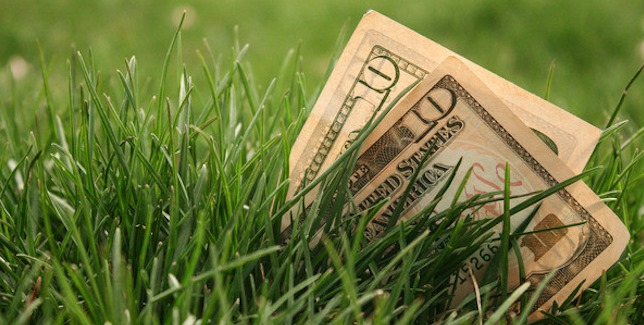 Tip Nine- Purchase Used Equipment
Look, if affordable lawn care is your thing, then do not buy new equipment. You can save A LOT of money by heading to Facebook, craigslist, or your local classifieds and buying used equipment.
It's no secret that hardware stores have to markup their products to make a profit. But the moment a lawn mower or piece of equipment is used, it loses value quickly. If you are vigilant you can easily save $100's if not $1,000's of dollars on lightly used mowing equipment that is still in great shape.
No doubt about it, it will take more time, and buying used equipment is a challenge at times. But if you follow through with it, and haggle wisely, you can save money. Affordable lawn care takes more effort, but taking the time to save money, may just be worth your while.
Tip Ten- Put in the Time
One of the best ways to make lawn care affordable is to put in the time. A little elbow grease goes a long way if you are looking for affordable lawn care. Whether it is affordable lawn care tip #3 for making your own herbicides, or tip #8. You will have to put in the extra time to cut the costs of maintaining your lawn.
The more you can do yourself with the tools you have on hand, the more affordable your lawn care will become. For example, if you can push mow your lawn, it may take much longer. But, a push mower is much, much cheaper than even the cheapest riding tractor.
Tip Eleven- Hire a Lawn Pro Through GreenPal
Most people don't know this but hiring a lawn care professional is often one of the best ways to cut your lawn care costs. Hiring a lawn care professional often leads to affordable lawn care.
Hiring the right lawn care pro, at the right price can save you a lot of money. Think about it, there are a lot of equipment costs when it comes to maintaining a lawn properly. Spending $2,000 on a lawn mower, $300 on a string trimmer, then there is the leaf blower, the edger, and all of the equipment costs associated with upkeep and repair.
Unless our lawn is small enough for a push mower, your best bet may be to hire a lawn care professional if you are looking for affordable lawn care.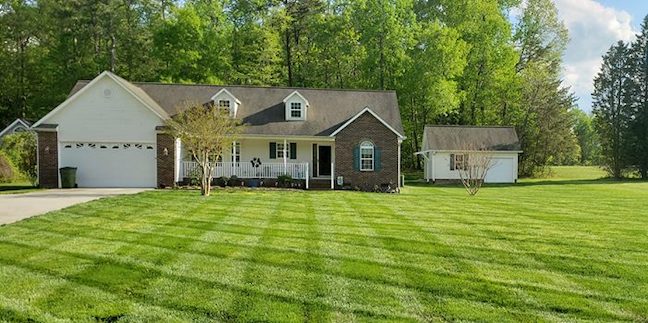 The Bottom Line on Affordable Lawn Care
If affordable lawn care is what you after there are many options available for you to utilize.
Whether it is choosing low-maintenance features like wildflower patches, or taking the time to purchase used equipment.
Affordable lawn care may require a bit of extra time and effort, but with a little hard work and creative thinking, you can achieve a great lawn which costs little to maintain.
If all else fails, or if you can't do it all on your own, head to GreenPal to hire your next lawn care professional. Whether you need weekly service or a one time mow. You can find affordable lawn care on GreenPal all year round.
GreenPal's revolutionary platform allows up to 5 lawn care providers to bid on your property at once. To stay competitive lawn care providers have to offer their best rates to win your business.
Signing up only takes five minutes, the quotes are free, and you can read the reviews on the lawn care professionals before hiring them.